Green Lighthouse Project – Case Study
Polytan's new hockey turf Poligras Tokyo GT is a product that embodies the goals of the Green Technology strategy in an exemplary way: with the development of this hockey turf, Polytan has succeeded in launching a product that offers clear environmental and climate benefits over conventional synthetic turf systems, while offering world-class playing qualities. Polytan's Poligras Tokyo GT is the turf for international championships and competitions!
Poligras Tokyo GT synthetic turf consists of at least 60 % sugar cane, a renewable material.
Less consumption of oil-based materials
Does not contribute to the destruction of tropical rainforests
Does not compete with areas that are reserved for food production
Made from CO2-neutral materials
But what makes Poligras Tokyo GT more sustainable than conventional synthetic turf systems? To find out, it's worth taking a look at the entire value chain that begins in the sugar cane fields in Brazil. Our partner Braskem uses just 0.02 % of available sugar cane for the production of I'm green™ polyethylene. Braskem does not grow sugar cane itself, but sources the material from sugar cane suppliers.
GREEN REVOLUTION:
BIO-POLYETHYLENE I'M GREEN™
As with all our synthetic turf systems, the filaments (turf fibres) of the Poligras Tokyo GT are made of polyethylene, a non-toxic, highly recyclable plastic that has proven itself over many years for sports surfaces. What is special about the polyethylene used in the Poligras Tokyo GT is that it is made out of 60 % sugar cane. I'm green™ polyethylene – a revolutionary bioplastic from the Brazilian manufacturer Braskem. Renewable resources instead of fossil resources.
Best possible raw material production
Sugar cane is used to make the bio-based polyethylene from Braskem. In the growing region, this is always partly converted by the sugar mills into bioethanol (fuel), a byproduct of food production (sugar) in Brazil. Food and fuel production are inseparably linked in Brazil. The cultivation area is 2,500 km from the Amazonian rainforest. Cultivation takes place without artificial irrigation, and with a high proportion of natural fertiliser (ashes and vinasse).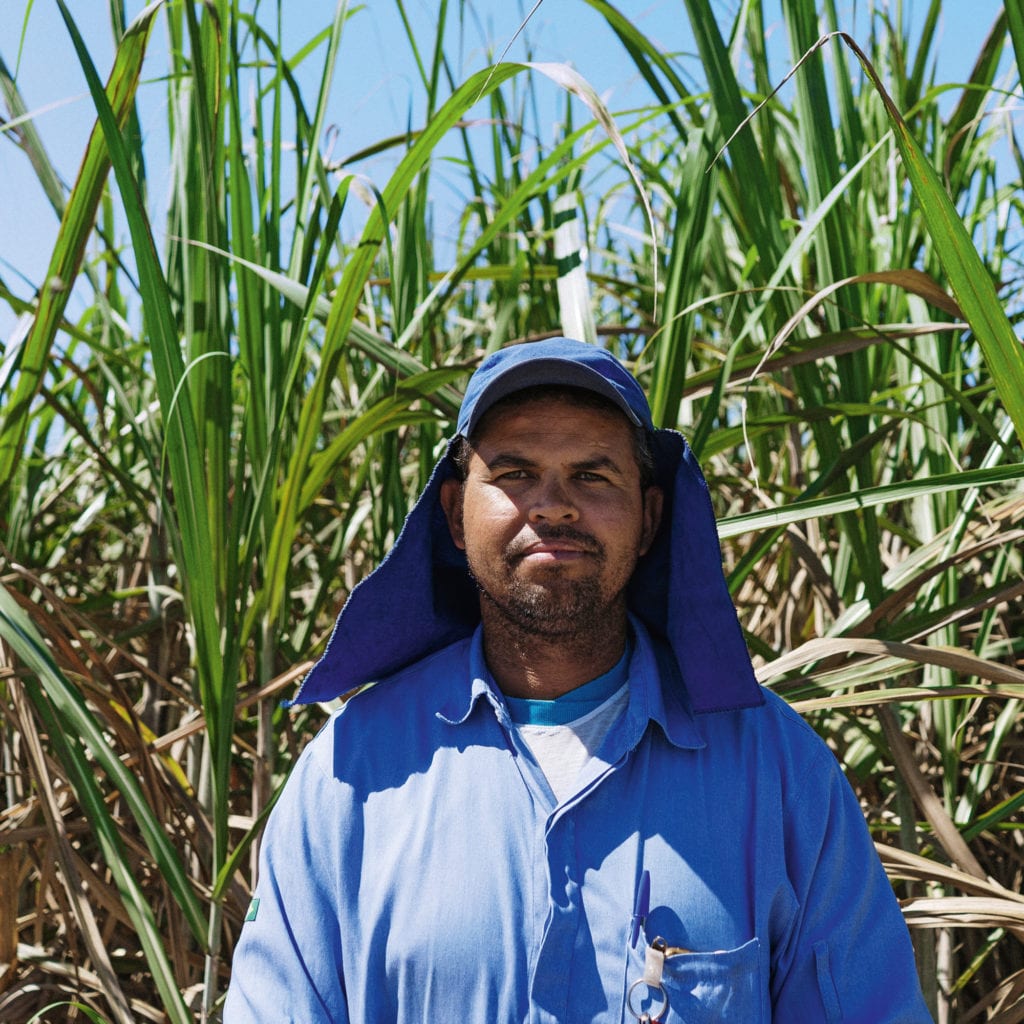 Does not compete with food production
In the production of I'm green™ polyethylene, the first two pressings of the sugar cane are used as food for the production of sugar – only the third pressing (which is not high-quality enough for sugar production) serves together with the molasses as the starting material for bio-polyethylene production. The bagasse, which is also a byproduct of the sugar cane pressing, is used in the bio-power plant for CO2-neutral energy production. The bagasse generates energy and steam (heat) for the sugar and ethanol production. This has direct effects on the negative CO2 footprint from I'm green™. The ashes produced during the incineration of the bagasse are used as organic fertiliser on the sugar cane fields.
This process therefore comes quite close to the ideal of a self-contained, closed-loop economy.
CLIMATE POSITIVE – REDUCES CLIMATE IMPACT
The bio-polyethylene produced from the sugar cane itself is 100 % conventional petroleum grade polyethylene in all its qualities – with one key difference: while in the production of a tonne of conventional polyethylene, approximately 1.9 tonnes of climate-damaging CO2 are released, in the case of I'm green™ CO2 is absorbed from the atmosphere. A "cradle to gate" life cycle assessment (i.e. the life cycle from cultivation to delivery from the factory) has shown that the production of one tonne of Polytan bio-polyethylene relieves the burden on the climate by 2.77 tonnes of CO2.
Even after transporting from Brazil to the Polytan production sites in Europe, the negative CO2 balance remains positive for the climate. When the container ship enters the port of Rotterdam, the CO2 benefit is still around 2.62 tonnes.
For the production of the Poligras Tokyo GT, the I'm green™ polyethylene is then mixed in a ratio of 60:40 with conventional polyethylene, melted down and extruded into filaments. Using a high proportion of bio-polythelene would be desirable, and using 100 per cent bio-polythelene would complete the transition to a totally CO2-neutral turf.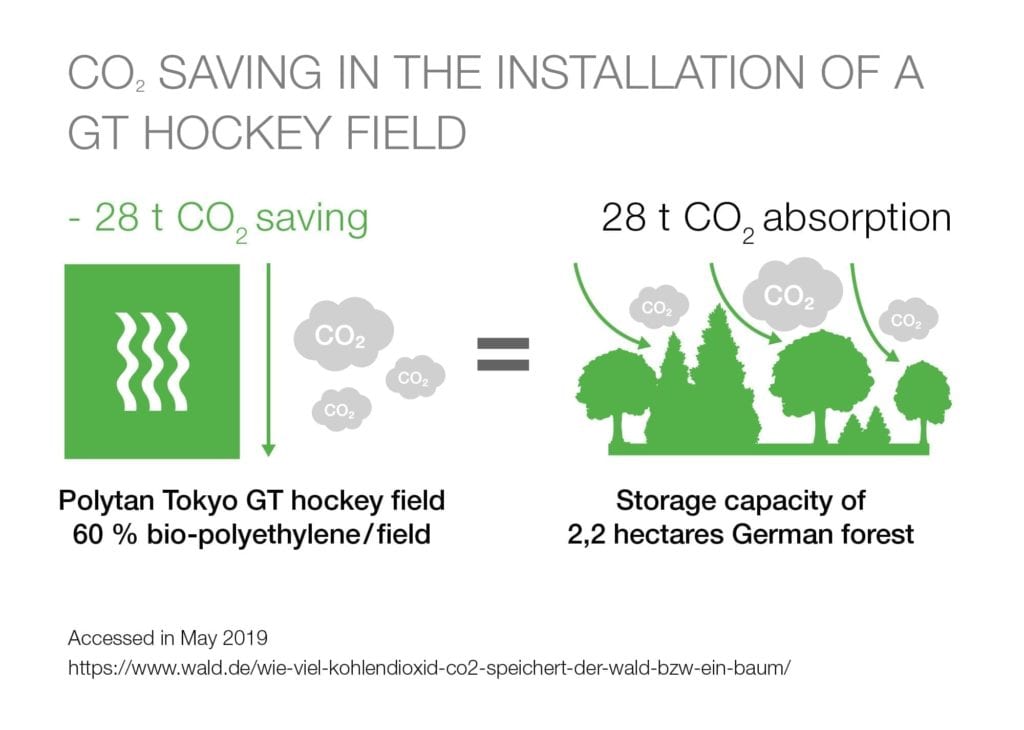 But even when combined with conventional polyethylene, the Poligras Tokyo GT offers significant potential for reducing the impact on the climate. Thus, with a bio-based raw material content of 60 %, almost 2 tonnes of CO2 per tonne of material used for the lawn filaments can be saved. For an entire hockey pitch, therefore, around 28 tonnes of CO2 can be saved. This corresponds to about of CO2 which is stored in 2.2 hectares of German forest.*
Or to be more precise, One hectare of German forest stores about 13 tonnes of CO2 per year across all age groups.
* German forests currently contain 1.2 billion tonnes of carbon. This corresponds to around 4.4 billion tonnes of CO2.